Q: Will the FingerPrint Plugin have the same fingerprint records when I use a different device/computer?
A: Same FingerPrint Plugin , If the computer has different components, It will generate different fingerprint records. To make sure the FingerPrint Plugin you will need to use computers that have exactly the same components. For example, When you use a Mac, You may install a VMWare Visual system, to run it inside the visual system, The Mac components are usually the same. This will not cause any problems.
Q: What kind of computer components will affect the FingerPrint Plugin?
A: Most likely are Graphic/Video card, CPU, sound card or even different version of hardware drivers could cause the issue. You can avoid this issue by choosing exactly the same Computer model of the computer and using exactly the same driver versions. Under the Noise mode, when using the same Virtual Machine, or same VPS. since these devices are set up by same ways it will stay same after open Noise mode.
About Data Sync questions
XLogin provides the Data sync function with encrypted storage when uploaded. if you need to upload your browser's data up to the cloud server, such as Cookie, history, passwords.
Please note: This function is off by default.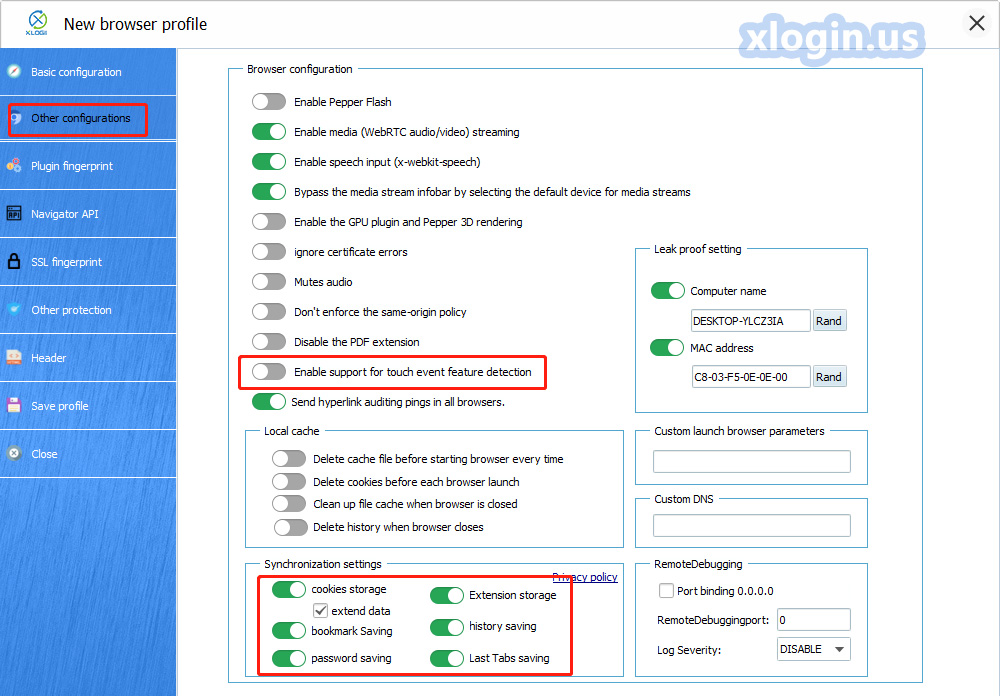 Enable support for touch event feature detection. You may turn this off if you not using visual mobile device.
Synchronization settings
Turn on Sync settings , the data will be uploaded every time you close the browser. The data will be downloaded every time you turn the browser on.
XLogin browser data will be encrypted storage on the cloud server. More data sync more times will be taken, for example, if you turn on "extension sync" and you have a lot of extensions, then this might increase download/upload time when sync the data.
If the browser profile is still active when you launch browser and can not open it. How to fix it?
Sometimes due to internet delay or other issues, it may cause the browser profile showing in use, It won't be able to restart the browser. There are two way to solve it.
Sign off the software , and sign in again.
Login to the Web user backend dashboard. There is a release profiles button. You may release it one by one or release it all.