When you set the profile, if the language you need is not found in the language setting, you can manually fill in or modify the language you want to use.The language you set must be consistent with the local language of the proxy IP.
e.g. Set Persian manually.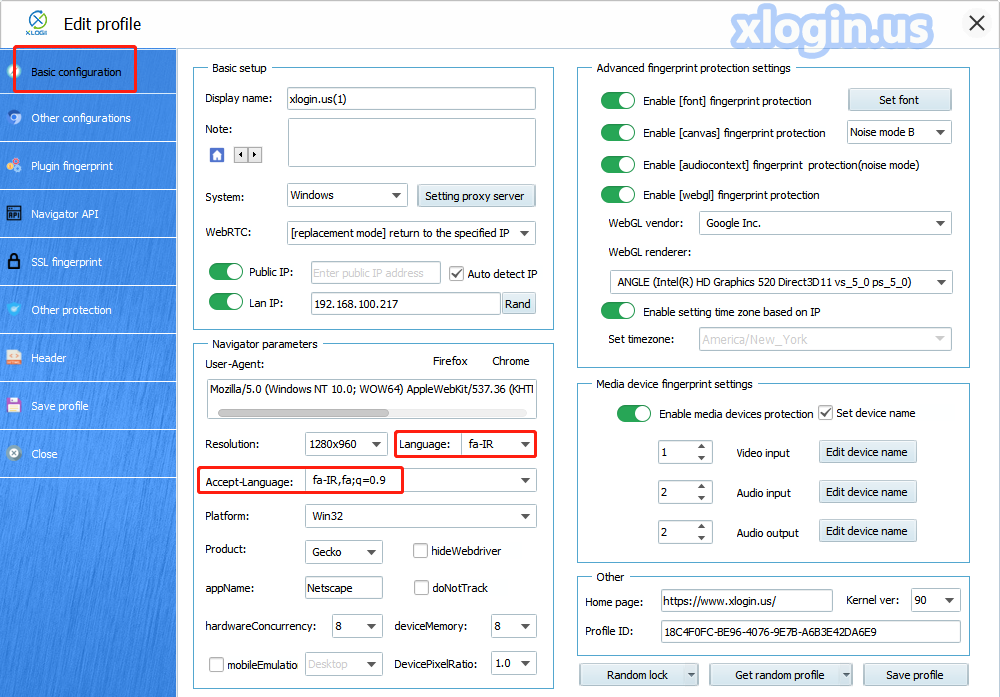 e.g. Set Latvian manually.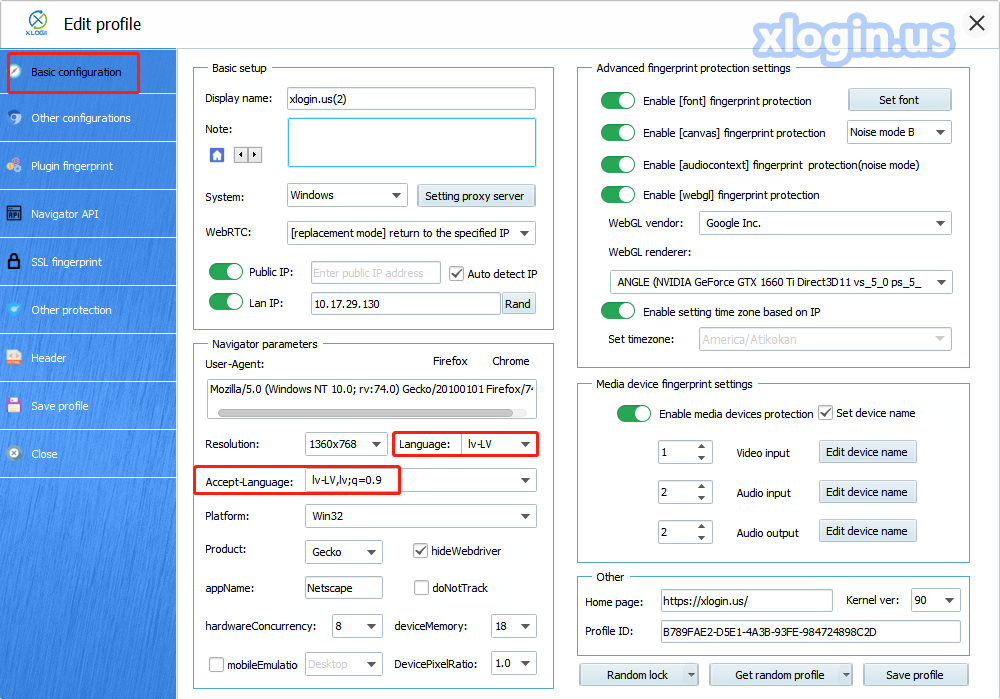 List of All Language Abbreviations Reference
| af | Public Dutch |
| --- | --- |
| af-ZA | Public Dutch-South Africa |
| sq | Albania |
| --- | --- |
| sq-AL | Albania-Albania |
| ar | Arabic |
| --- | --- |
| ar-DZ | Arabic-Algeria |
| ar-BH | Arabic-Bahrain |
| ar-EG | Arabic-Egypt |
| ar-IQ | Arabic-Iraq |
| ar-JO | Arabic-Jordan |
| ar-KW | Arabic-Kuwait |
| ar-LB | Arabic-Lebanon |
| ar-LY | Arabic-Libya |
| ar-MA | Arabic-Morocco |
| ar-OM | Arabic-Oman |
| ar-QA | Arabic-Qatar |
| ar-SA | Arabic-Saudi Arabia |
| ar-SY | Arabic-Syrian Republic |
| ar-TN | Arabic-Republic of North Africa |
| ar-AE | Arabic-United Arab Emirates |
| ar-YE | Arabic-Yemen |
| ar-SD | Arabic-Sudan |
| ar-TN | Arabic-Tunisia |
| ar-SY | Arabic-Syria |
| hy | Armenia |
| --- | --- |
| hy-AM | Armenian-Armenia |
| az | Azeri |
| --- | --- |
| az-AZ-Cyrl | Azeri-(Cyrillic)Azerbaijan |
| az-AZ-Latn | Azeri(Latin)-Azerbaijan |
| eu | Basque |
| --- | --- |
| eu-ES | Basque-Basque |
| be | Belarusian |
| --- | --- |
| be-BY | Belarusian-Belarusian-Belarus |
| bg | Bulgaria |
| --- | --- |
| bg-BG | Bulgaria-Bulgaria |
| ca | Catalonia |
| --- | --- |
| ca-ES | Catalonia-Catalonia |
| zh | Chinese |
| --- | --- |
| zh-CN | Chinese-China |
| zh-HK | Chinese-Hong Kong's SAR |
| zh-MO | Chinese-Macau's SAR |
| zh-CHS | Chinese(simplification) |
| zh-SG | Chinese-Singapore |
| zh-TW | Chinese-Taiwan |
| zh-CHT | Chinese(Traditional) |
| cs | Czech Republic |
| --- | --- |
| cs-CZ | Czech-Czech Republic |
| | |
| --- | --- |
| da | Danish |
| da-DK | Danish-Denmark |
| | |
| --- | --- |
| div | Dhivehi |
| div-MV | Dhivehi-Maldives |
| | |
| --- | --- |
| nl | Netherlands |
| nl-BE | Dutch-Belgium |
| nl-NL | Dutch-Netherlands |
| en | English |
| --- | --- |
| en-GB | English-United Kingdom |
| en-AU | English-Australia |
| en-BZ | English-Belize |
| en-CA | English-Canada |
| en-CB | English-Caribbean |
| en-IE | English-Ireland |
| en-IE-EURO | English-Ireland, Euro |
| en-JM | English-Jamaica |
| en-NZ | English-New Zealand |
| en-PH | English-Republic of the Philippines |
| en-ZA | English-South Africa |
| en-TT | English-Trinidad and Tobago |
| en-US | English-United States |
| en-ZW | English-Zimbabwe |
| en-ZM | English-Zambia |
| et | Estonia |
| --- | --- |
| et-EE | Estonian-Estonia |
| fo | Faroese |
| --- | --- |
| fo-FO | Faroese-Faroe Islands |
| fa | Persian |
| --- | --- |
| fa-IR | Persian-Kingdom of Iran |
| fr | French |
| --- | --- |
| fr-BE | French-Belgium |
| fr_BE_EURO | French-Belgium, Euro |
| fr-CA | French-Canada |
| fr-FR | French-France |
| fr_FR_EURO | French-French, Euro |
| fr-LU | French-Luxembourg |
| fr-LU-EURO | French-Luxembourg, Euro |
| fr-MC | French-Monaco |
| fr-CH | French-Switzerland |
| gl | Galicia |
| --- | --- |
| gl-ES | Galicia-Galicia |
| ka | Georgia |
| --- | --- |
| ka-GE | Georgia-Georgia |
| de | German |
| --- | --- |
| de-AT | German-Austria |
| de-AT-EURO | German-Austria, Euro |
| de-DE | German-Germany |
| de-DE-EURO | German-Germany, Euro |
| de-LI | German-Liechtenstein |
| de-LU | Germany-Luxembourg |
| de-LU-EURO | German-Luxembourg, Euro |
| de-CH | German-Switzerland |
| el | Greek |
| --- | --- |
| el-GR | Greek-Greece |
| gu | Gujarati |
| --- | --- |
| gu-IN | Gujarati-India |
| he | Hebrew |
| --- | --- |
| he-IL | Hebrew-Israel |